For You Baby
I built this page for my honey. Her name is Barb. I thought maybe I should do something nice for her since I spend so much time doing these things. Its her turn. This is my way of saying thank you for being so patient with me. I know I don't deserve it sometimes but I do try. Thank you anyway.  Im going to incorporate all of your favorite links on this site so all you have to do is go here to find all of your favorite places.  There will also be a surprise page.  No hints or anything.  You just have to find it.  It may be a little difficult to find but I think you will.

---
Welcome to Room By Room
Fast Food Facts - Interactive Food Finder
Software Download | Overview of Products
Weight Watchers
Simmons
Personal Publisher
Hard to find Graphics and Resources
Web Pages and Banners
Cowboys Home Page
RD's Home Page
Tid Bits and Treasures
---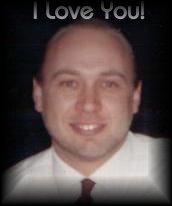 Click on me to continue!
This site was built and maintained by...

You can email the webmaster here